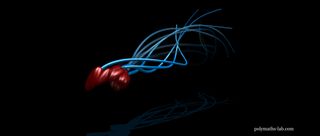 The sperm tail moves very rapidly in 3D like a rotating drill bit, not to-and-fro as 2D microscope data suggested.
(Image: © polymaths-lab.com)
Under a microscope, human sperm seem to swim like wiggling eels, tails gyrating to and fro as they seek an egg to fertilize. 
But now, new 3D microscopy and high-speed video reveal that sperm don't swim in this simple, symmetrical motion at all. Instead, they move with a rollicking spin that compensates for the fact that their tails actually beat only to one side. 
"It's almost like if you're a swimmer, but you could only wiggle your leg to one side," said study author Hermes Gadêlha, a mathematician at the University of Bristol in the U.K. "If you did this in a swimming pool and you only did this to one side, you would always swim in circles. … Nature in its wisdom came [up] with a very complex, ingenious way to go forward." 
Related: Sexy swimmers: 7 facts about sperm
Strange swimmers
The first person to observe human sperm close up was Antonie van Leeuwenhoek, a Dutch scientist known as the father of microbiology. In 1677, van Leeuwenhoek turned his newly developed microscope toward his own semen, seeing for the first time that the fluid was filled with tiny, wiggling cells. 
Under a 2D microscope, it was clear that the sperm were propelled by tails, which seemed to wiggle side-to-side as the sperm head rotated. For the next 343 years, this was the understanding of how human