A female deep-sea anglerfish, Melanocetus johnsonii. (Edith A. Widder)
Dating is hard enough when you have ample choice, but imagine drifting through a dark nothingness, half-formed and hopeless, starved for nutrients and love.
So goes the life of a bachelor anglerfish, and when there aren't plenty of fish in the deep sea, you can't blame them for being a little clingy when they do find one.
Still, some anglerfish take that neediness to the extreme. When certain species sniff out a giant female in the dark, they will whip out their sharp teeth and bite their date by the belly.
Once they have a firm grasp, these tiny males, sometimes no bigger than a centimetre, will release an enzyme that dissolves the surrounding skin, melding his and her tissues, and establishing a common circulation of blood.
Comfortable at last in a relationship that serves him up regular meals, the male may even start to lose its eyes, fins and some internal organs.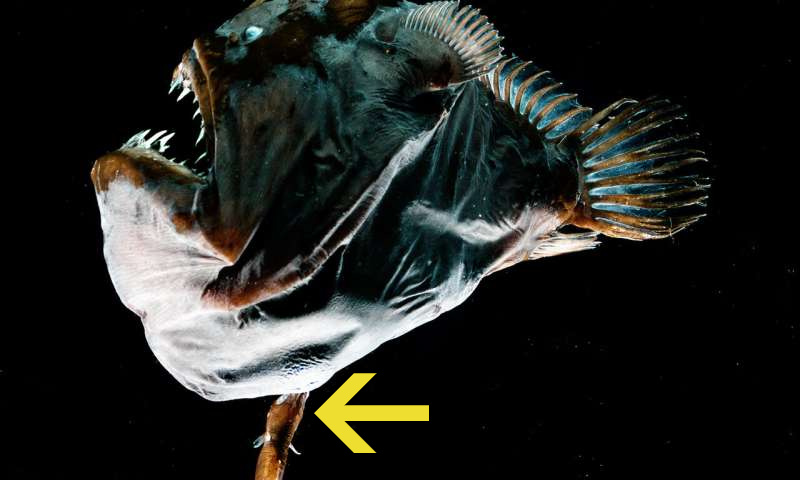 Arrow shows a 23.5 mm large male fused onto a female anglerfish. (Edith A. Widder)
In this gruesome way, these fish become nothing more than loyal and loving appendages with testes. Or, more accurately, sexual parasites.
As one naturalist put it in 1938: "This is sheer fiction, beyond all belief unless we have seen the proof of it."
And we have – we've actually got footage. Outside of identical conjoined twins, scientists say this is the only other example of sexual parasitism that's naturally occurring.
For 100 years, we've wondered how anglerfish actually do it, and now we might have figured it out.
Even for the best doctors, fusing foreign tissue and establishing a common blood circulation is incredibly difficult. Human organ tr